SuperSonicCon New Details
Dear friends, we have some great news!
Summer 2014 will mark one of the most important events in the history of Sonic fandom surrounding Russia and several other countries, which will unite all fans from main Russian communities!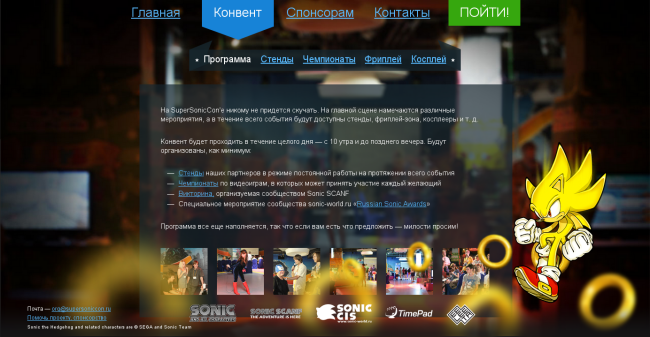 Russian Sonic the Hedgehog fans have been arranging large meet-ups in Moscow every summer since 2006, but this time we're going to hold a true fan convention called SuperSonicCon with everything that usually composes such events. During the entire day under the roof we will hold ceremonials, different contests, video game tournaments, and the most important thing of all - Sonic fans from all over the world will be able to meet in a friendly atmosphere, chat and have a really good time!
Here are some of the planned features for the convention:
— It will be held in a large place, well-equipped and prepared for housing an event like this. Most likely it will be " DNK HALL" in the "Central House of Artists ".
— Stands of our friends and sponsors will be set up. Everyone can organize their own stand where they will be able to exhibit their art or show off their Sonic staff collection.
— For the first time at a Russian Sonic event you will see cosplay ! We invite all the cosplayers to take part! A few teams are already willing to be there with us. And, of course, photographers will be there too.
— And as always, exciting gaming competitions , where you will be able to compete with others playing classic and modern Sonic games! Winners of the competitions will receive great prizes!
— The convention visitors will be able to play almost every released Sonic game at freeplay;
— BadnikLive quiz will show who has the best knowledge of Sonic the Hedgehog universe;
— Authors of good fan art, fanfiction, music videos, game hacks and just the ones who contributed a lot to the Sonic community will receive special attention, while the best will earn Russian Sonic Awards ;
Everyone can take part in organization of the convention. If you have any ideas regarding the event, its format as a whole or its separate parts, you can share them with us!
SuperSonicCon will be held at August 2nd 2014 !
Our website , our VK.com group